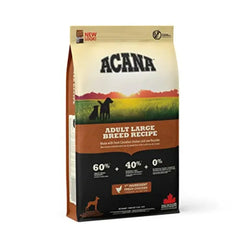 SFBA USA
Acana Large Breed Adult Dog Food 11.4 Kg
High-quality meat present in the diet offers a rich source of protein to to increase muscle mass and strength.
Low carb content for countering diabetes and obesity.
Contains valuable extracts providing all the necessary vitamins and minerals for speeding up metabolism.
Essential fatty acids like EPA and DHA along with zinc boosts skin health and maintain good eyesight in large breed canines
Gluten and grain free meal containing no synthetic additives.
 Description
cana Large Breed Adult Dog Food 11 Kg offers a WholePrey formula which provides all the necessary nutrition in the diet similar to their carnivorous ancestors. This nourishes the canine according to natures way and keeps them healthy and strong. The food has adequate protein content for sustaining good muscle mass and to repair body tissues. It is also low in carbohydrate to maintain a balanced blood sugar level and to prevent obesity. This also reduces stress produced in bones and joints of the dog. Essential fatty acids present in the diet boosts vision and skin health. Acana Large Breed Adult Dog Food contains valuable plant extracts giving all the essential vitamins and minerals for supporting a healthy metabolism. The inclusion of freeze-dried liver meat enhances the palatability of food. Acana Dog Food is a biologically appropriate food having no gluten, grain or any synthetic additives.
 Ingredients
Fresh chicken meat (13%), chicken meal (12%), turkey meal (11%), red lentils, whole green peas (8%), field beans, fresh chicken giblets (liver, heart, kidney) (4%), herring meal (4%), fresh whole eggs (4%), fresh whole flounder (4%), herring oil (3%), chicken fat (3%), sun-cured alfalfa, green lentils, whole yellow peas, pea fiber, fresh chicken cartilage (2%), dried brown kelp, fresh whole pumpkin, fresh whole butternut squash, fresh whole parsnips, fresh kale, fresh spinach, fresh mustard greens, fresh turnip greens, fresh whole carrots, fresh red delicious apples, fresh Bartlett pears, freeze-dried chicken liver, freeze-dried turkey liver, fresh whole cranberries, fresh whole blueberries, chicory root, turmeric, milk thistle, burdock roo
 Details
Brand:

 Acana

Manufacturer:

 Champion Petfoods USA

Importer:

 GNV Commodities Pvt Ltd

Number Of Items:

 1

Form:

 Pellet

Country Of Origin:

 US

Diet Type:

 Non Vegetarian

Net Quantity:

 11.4 Kg

Special Use:

 Hairballs, Skin, Behaviour, Joints, Weight, Coat, Low Fat, Digestive Health, Strong Bone, Growth, Healthy Growth

Care Instruction:

 Keep In A Dry Place, Keep In Air Tight Packing

Intended Use:

 Hairballs, Joints And Bone, Daily Use, Dry Use, Vitamin And Supplements, Skin And Coat, Growth And Performance, Better Immunity