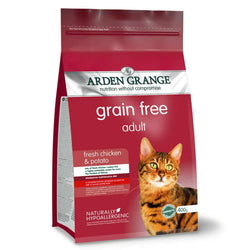 SFBA USA
Arden Grange Adult Cat Chicken Food 400 Gms
A fitting meal for all adult cat breeds.
High-quality protein for building lean muscles and to repair body tissues.
Essential Omega 3 and Omega 6 fatty acids for maintaining a healthy skin and a radiant coat.
Taurine keeps the heart healthy and boosts eyesight in felines.
Organic citrus extract for supporting good urinary health.
Natural anti-oxidants for boosting overall immunity.
 Description
Arden Grange Adult Cat Chicken Food 400 Gms is a complete cat food having the essence of fresh chicken meat and potatoes for making it delicious even for the fussiest of eaters. An adequate protein content in the diet helps in maintaining muscle mass and an ideal body function. Omega 3 and Omega 6 fatty acids reduce inflammation and keep the skin and coat of the feline in fine health. Arden Grange Adult Cat Chicken Food contains taurine amino acids for boosting eye vision and cardiac health. Natural fibres offered by the meal promotes a gentle and healthy digestion and also counters the formation of hairballs. Natural citrus extracts of Cranberry keeps a healthy urinary tract in felines. Arden Grange Cat Food contains natural anti-oxidants for eliminating free radicals present in the body thereby boosting overall immunity. It is a naturally hypo-allergenic diet having no artificial additives and flavours.
 Ingredients
Fresh chicken (26%), potato (26%), chicken meat meal (25%), pea starch, chicken oil, egg powder, chicken digest, krill, yeast extract, malt extract, pea fibre, minerals, prebiotic FOS, prebiotic MOS, cranberry extract, glucosamine, MSM, chondroitin, nucleotides, rosemary extract.
 Additives (Per Kg)
Vitamin A 28,000 IU, Vitamin D3 2,000 IU, Vitamin E 200 IU
 Details
Brand:

 Arden Grange Pet Foods

Manufacturer:

 Arden Grange

Importer:

 Orange Pet Nutrition Pvt Ltd

Number Of Items:

 1

Form:

 Pack

Country Of Origin:

 GB

Diet Type:

 Non Vegetarian

Net Quantity:

 400 G

Special Use:

 Skin, Coat, Activeness, Effective To Attract Fussy Eaters, Immune, Digestive Health

Intended Use:

 Complete Nutrition, Better Immunity, Healthy Muscles, Skin And Coat, Growth And Performance, Skin And Coat Problems