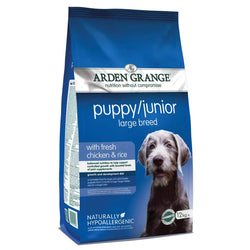 SFBA USA
Arden Grange Puppy Junior Large Breed Dog Food 12 Kg
Large kibble size of the meal adapts the jaw shape of large and giant breed pups.
Rich protein content from high-quality animal meat increases muscle mass and strength.
Glucosamine, Chondroitin and MSM support strong and supple joints
35% pure chicken content for making the meal delicious to savour.
Natural Prebiotics for encouraging gentle and a healthy digestion.
Can also be served to small breed puppies having a larger appetite.
 Description
Arden Grange Puppy Junior Large Breed Dog Food 12 Kg is a premium quality food having pure and tasty chicken meat provides high-quality nutrition to large and giant breed pups. The larger kibble size makes it easier for them to chew. The food can also be given to small breed puppies who demands a larger appetite. Boosted levels of Glucosamine, Chondroitin and MSM alleviates pain produced in the joints and support a strong cartilage. Arden Grange Puppy Junior Large Breed provides less energy density for promoting a steady rate of growth in large breed pups. Arden Grange Puppy Food 12 Kg consists of cranberries, rosemary and yucca extract for building a strong immune system. It also contains FOS and MOS prebiotics for keeping the gut healthy in order to promote healthy digestion.
 Ingredients
Chicken, (chicken meat meal 30%, fresh chicken 5%), rice 19%, maize, refined chicken oil, beet pulp, chicken digest, krill, minerals, yeast, whole dried egg, whole linseed, prebiotic FOS, prebiotic MOS, glucosamine (370mg/kg), MSM (370mg/kg), chondroitin (260mg/kg), yucca extract, cranberries, nucleotides.
 Additives (Per Kg)
Vitamin A 21,000 IU, Vitamin D3 1,575 IU, Vitamin E 280 IU.
 Analytical Constituents
Zinc chelate of amino acid hydrate 583mg, Copper chelate of amino acid hydrate 117mg, Manganese chelate of amino acid hydrate 78mg, Calcium iodate anhydrous 2.8mg, Selenised Yeast (inactivated) 76mg, Antioxidant (rosemary extract)
 Details
Brand:

 Arden Grange Pet Foods

Manufacturer:

 Arden Grange

Importer:

 Orange Pet Nutrition Pvt. Ltd

Number Of Items:

 1

Form:

 Pack

Country Of Origin:

 GB

Diet Type:

 Non Vegetarian

Net Quantity:

 12 Kg

Special Use:

 Healthy Growth, Nutrition, Growth, Easy Chewing, Instinctively Preferred, Strong Bone, Digestive Health, Immune, Muscles, Effective To Attract Fussy Eaters, Coat, Activeness

Intended Use:

 Complete Nutrition, Better Immunity, Healthy Muscles, Skin And Coat