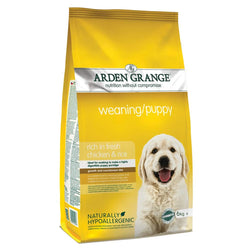 SFBA USA
Arden Grange with Chicken Weaning Puppy Food 6 Kg
Highly delicious starter dog food for introducing solid foods to puppies.
Ample amount of protein for improving muscle mass and bone density.
Decent fat content keeps pregnant and nursing dogs energetic.
Balanced nutrition supports overall growth and development in pups.
Organic FOS and MOS prebiotics boost puppy's digestive health.
 Description
A good starter dog effectively transits weaning puppies to solid foods. The kibble should be quickly turned into a porridge-like consistency for helping puppies to chew the food quickly. A diet like Arden Grange with Chicken Weaning Puppy Food 6 Kg is an apt starter dog for puppies as well as pregnant and lactating dogs of all breeds. The food contains highly appetizing chicken as well as rice which allures the fussiest of eaters. The kibbles are smaller in size that can be easily soaked to create porridge for weaning puppies. The nutritional profile of the food suits the young puppy's delicate digestive system The fresh chicken meat offers a protein content of high biological value for building lean muscle mass and strength. A healthy combination of fats, vitamins and minerals supports healthy growth and development in the puppies. Arden Grange with Chicken Weaning Puppy also keeps pregnant as well lactating bitches lively and high spirited. Rosemary Extract present in the diet is an excellent antioxidant for strengthening the defence mechanism of the dogs.
 Ingredients
Chicken (Chicken meat meal 26%, fresh chicken 18%), rice (14%), maize, refined chicken oil, whole dried egg, beet pulp, fish meal, chicken digest, krill, yeast, minerals, whole linseed, prebiotic FOS, prebiotic MOS, yucca extract, glucosamine, MSM, chondroitin, cranberries, nucleotides.
 Additives (Per Kg)
Vitamin A 24,000 IU, Vitamin D3 1,800 IU, Vitamin E 320 IU.
 Details
Brand:

 Arden Grange Pet Foods

Manufacturer:

 Arden Grange

Importer:

 Orange Pet Nutrition Pvt Ltd

Number Of Items:

 1

Form:

 Pack

Country Of Origin:

 GB

Diet Type:

 Non Vegetarian

Net Quantity:

 6 Kg

Special Use:

 Skin, Activeness, Effective To Attract Fussy Eaters, Muscles, Immune, Digestive Health, Nutrition, Healthy Growth, Coat, Growth, Weaning, Lactating/Pregnant Mother And Her Puppy

Intended Use:

 Growth And Performance, Skin And Coat, Weaning Mother And Puppy