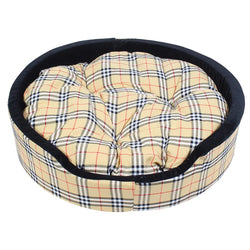 SFBA USA
Cream Color Designer Check Bucket Bed for Medium Cats
These durable and hardy dog beds are designed to withstand the harshest conditions and even the most enthusiastic pets.
Created using ultra strong polyester, our Anchor beds make your pet feel at home anywhere and are able to withstand any environment, inside or out.
The waterproof gripped bottom provides a firm foundation and adds an extra layer of insulation, the wipe clean material also allows for easy maintenance.
Available in sizes Extra small, SMALL, MEDIUM, LARGE X-LARGE,xxl. Made in India.
Helping to keep homes odor, fur, and dander free.
 Description
These comfortably padded dog beds are ideal for most standard folding metal, carriers, cat carriers, houses and work great as a stand-alone dog bed/cat Each grey house is made of polyester with overstuffed bolsters around the perimeter creating a nice headrest adding to your dog or cats' overall comfort.anywhere in the house or when travelling with your pet.
 Details
Brand:

 Douge Couture

Manufacturer:

 D.C Creations

Number Of Items:

 1

Form:

 Pack

Country Of Origin:

 IN

Diet Type:

 

Net Quantity:

 1 Count

Special Use:

 Bedding, Sleeping

Care Instruction:

 Machine Washable, Tumble Dry Low, Hand Washable, Dry Clean

Additional Features:

 Easy To Clean, Durable, Easy To Store, Non-Irritating, Easy To Carry, Suitable For All Weathers