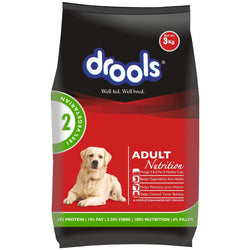 SFBA USA
DROOLS Daily Nutrition Adult 100% Vegetarian 3 kg
Suitable for owners who are vegan.
Keeps strong bones and muscles in dogs.
Promotes good cognitive function.
Prevents excessive plaque buildup.
Maintains good oral hygiene.
Omega 3 and Omega 6 fatty acids give good nourishment to skin and coat.
Natural antioxidants for enhancing overall immunity.
 Description
DROOLS Daily Nutrition Adult 100% Vegetarian 3 kg is an appropriate dog food specially designed for adult dogs of all breeds for sustaining superior health and wellbeing. The dog food being completely vegetarian helps those owners who are vegan. A 24% of protein content in the diet improves muscle growth and overall strength in adult dogs. Lecithin is a vital element for boosting brain health and for supporting a strong immune system. The essential amino acids in the food repair body tissues and boost nervous function. DROOLS Daily Nutrition Adult 100% Vegetarian offers a crunchy kibble for assisting good chewing and to counter excessive plaque buildup. Requisite minerals and vitamins have been added for keeping robust bones and teeth. Antioxidants present in the meal builds good resistance against infections and diseases.
 Ingredients
Rice, Vegetables, Corn, Wheat, Corn Gluten Meal, Soya Refined, Corn oil, Lecithin, Essential Amino Acid, Minerals, Vitamins, Salt and Antioxidants
 Details
Brand:

 Drools

Manufacturer:

 ABIS EXPORTS (INDIA) PRIVATE LIMITED

Number Of Items:

 1

Form:

 Pellet

Country Of Origin:

 IN

Diet Type:

 Vegetarian

Net Quantity:

 3 Kg

Special Use:

 Behaviour, Activeness, Immune, Digestive Health, Nutrition

Care Instruction:

 Keep In Air Tight Packing

Intended Use:

 Behavioural Training, Growth And Performance, Skin And Coat