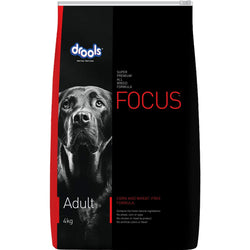 SFBA USA
Drools Focus Adult Dog Food 4 Kg
Easily digestible food ensuring a high nutrient absorption.
Helps in preventing Tartar
Omega 3 and Omega 6 for a healthy skin and a shiny coat.
Superior antioxidant formula for keeping a healthy immune system.
 Description
Drools Focus Adult Dog Food is a complete and balanced dog food for comprehensive development in Adult dogs of all breeds. It is made from the finest quality natural ingredients, included in right proportions, to result in optimum good of the dog. Major component of the food is real chicken, which supplies the best quality protein to benefit canine bodies the most. Having oats and rice takes load off digestive mechanism by enhancing digestion of the food, and as a result, ensure optimum nutrient absorption. Crunchiness of the kibbles supports the dental health by reducing plaque build-up. Immune system and cellular health get empowered through the special antioxidants such as vitamin C and E. Drools focus dog food also containsbalanced amount of omega-3 and omega-6 fatty acids, zinc, vitamin E and biotin nourish the skin and coat to showcase a radiant fur.
 Ingredients
Raw Material:- Real Chicken(>40%), Whole Dried Eggs, Long Grain Rice, Oatmeal, Flax Seed Oil, Sunflower Oil, Fish Oil, lecithin, salt, Beet Pulp. Vitamins- Vit A: (22000 IU), Vit D3 (1500 IU), Vit E (250 Mg), Vit C (150 Mg), Vit B1 (8 Mg), Vit B2 (22 Mg), Vit B6 (11 Mg), Choline (2500 mg), folic acid- (2 Mg), Beta-carotene (50mg) and Others. Natural Antioxidants (Rosemary Extract),Glucosamine,Chondroitin Sulphate, Probiotics and Prebiotics,Essential Amino Acid , Organic mineral.
 Details
Brand:

 Drools

Manufacturer:

 ABIS EXPORTS (INDIA) PRIVATE LIMITED

Number Of Items:

 1

Form:

 Pellet

Country Of Origin:

 IN

Diet Type:

 Non Vegetarian

Net Quantity:

 4 Kg

Special Use:

 Behaviour, Weight, Immune, Muscles, Training, Nutrition

Care Instruction:

 Keep In Air Tight Packing