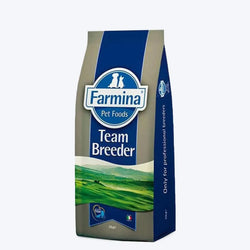 SFBA USA
Farmina Team Breeder Grain Free Top Adult Chicken Food 20 Kg
Fresh boneless chicken meat making the meal delicious for consumption.
Rich protein content for building lean muscle mass and strength.
Natural fibres for maintaining a gentle and a healthy digestion.
Decent fat content for offering sustained energy to canines for leading an active lifestyle.
Beetroot pulp is an excellent anti-oxidant for strengthening the immune system.
NGREDIENTS: Fresh boneless chicken (28%), dehydrated chicken meat (28%), pea starch, chicken fat, dried beetroot pulp, mono-dicalcium phosphate, sodium chloride, calcium carbonate, dried brewers yeast.
 Description
Farmina Team Breeder Grain Free Top Adult Chicken Food 20 Kg is a highly nutritious dog food having fresh boneless chicken as the primary ingredient offering a variety of nutrients for adult canines. A balanced proportion of calcium and phosphorus in the food strengthen bones and joints. Dried beetroot pulp is an excellent source of anti-oxidants for fighting infections and to keep the immune system in strong condition. Raw fibre present in Farmina Team Breeder Grain Free Top Adult Chicken facilitates the cleaning of the digestive tract and helps to absorb maximum nutrients present in the diet. A healthy content in the food provides sufficient energy to the canines for sustaining an active and healthy lifestyle.
 Ingredients
Vitamin A 10000IU; Vitamin D3 1000IU; Vitamin E 100mg; Vitamin C 100mg; Niacin 25mg; pantotenic acid 10mg; Vitamin B2 5mg; Vitamin B6 4mg; Vitamin B1 3mg; Vitamin H 0.25mg; folic acid 0.30mg; Vitamin B12 0.04mg; choline chloride 1500mg; zinc oxide 108mg; zinc sulphate monohydrate 120mg; manganous sulfate monohydrate 150mg; ferrous sulphate monohydrate 44mg; ferrous carbonate 60mg; copper sulphate pentahydrate 50mg; calcium iodate anhydrous 2.4mg; sodium selenite 0.22mg; DL-Methionine 150mg.
 Details
Brand:

 Farmina

Manufacturer:

 Russo Mangimi Spa Farmina Pet Foods

Importer:

 Goa Medicos Pvt Ltd

Number Of Items:

 1

Form:

 Pellet

Country Of Origin:

 IT

Diet Type:

 Non Vegetarian

Net Quantity:

 20 Kg

Special Use:

 Behaviour, Weight, Weaning, Growth, Immune, Muscles

Care Instruction:

 Keep In Air Tight Packing