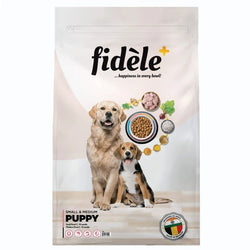 SFBA USA
Fidele Puppy Small & Medium Breed Dog Food 12 Kg
Essential vitamins and minerals boost cellular health and build a strong immune system.
An optimal ratio of Omega 3 and Omega 6 encourage good skin and coat health.
Distinct kibble size of the food reduces tartar and plaque build-up and also promotes good chewing.
Prebiotics and Probiotics in the diet provide beneficial bacteria for boosting overall digestive mechanism.
Contains no artificial colours or preservatives.
 Description
Small and medium breed puppies physiology is somewhat similar. Fidele Puppy Small & Medium Breed Dog Food 12 Kg is a super premium quality dog food to meet the peculiar needs of their physical make-up. Sufficient energy has been packed to gratify the higher metabolism and rapid growth rate of the young canines. Chicken is the primary component of the diet and is a highly digestible and palatable source of high-quality protein. Bodys internal defence mechanism against infections gets enhanced with the addition of various essential vitamins and minerals. The gluten-free complete and balanced puppy food is well-digested by the body through the prebiotic and probiotic elements of the food. Unique kibble shape offered by Fidele Puppy Small & Medium Breed helps to reduce tartar and plaque build-up. An accurate blend of omega-6 and omega-3 fatty acids promotes healthier skin and coat. Fidele Puppy Food contains no artificial colours, flavoursand preservatives.
 Ingredients
Chicken, Rice, Maize, Chicken fat, hydrolyzed chicken protein, beet pulp, brewery yeast, vitamins and minerals, carob flour, whole dried eggs, fresh salmon oil, FOS (fructo- oligosaccharides), MOS (mannan -oligosaccharides), dried Antarctic krill (a natural source of EPA and DHA), lecithin, Yucca schidigera, rosemary, glucosamine, chondroitin, MSM methylsulfonylmethane)
 Details
Brand:

 Fidele

Manufacturer:

 Orange Pet Nutrition Pvt Ltd

Importer:

 Orange Pet Nutrition Pvt. Ltd

Number Of Items:

 1

Form:

 Pellet

Country Of Origin:

 BE

Diet Type:

 Non Vegetarian

Net Quantity:

 12 Kg

Special Use:

 Hairballs, Skin, Joints, Weight, Coat, Muscles, Immune, Strong Bone, Weaning, Growth, Nutrition, Healthy Growth, Easy Chewing, Hairfall

Care Instruction:

 Keep In A Dry Place, Keep In Air Tight Packing

Intended Use:

 Hairballs, Joints And Bone, Daily Use, Chewing & Dental, Dry Use, Sports And Training, Skin And Coat, Growth And Performance, Healthy Muscles, Better Immunity