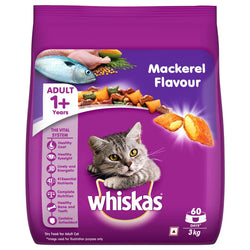 SFBA USA
Whiskas Adult (+1 year) Dry Cat Food , Mackerel Flavour, 3Kg Pack
Crunchy kibbles loaded with real mackerel and poultry makes the food delicious to savour.
A generous amount of animal protein maintains lean muscle mass and strength.
Whole grains cereals for countering diabetes and obesity.
Vitamin E and Taurine strengthen the immune system and keep a healthy heart.
Omega 3 and Omega 6 fatty acids nourish the skin and coat of the feline.
 Description
Whiskas Pocket Mackerel Cat Food 3 Kg offers a premium quality diet having Real Mackerel fish as the main ingredient for nourishing adult cats of all breeds. An ample amount of protein content offered by the diet maintains a healthy muscle mass and repairs body tissues. Whiskas Mackerel contains Taurine amino acid obtained from animal meat and Vitamin E for keeping good cardiac health and to boost the overall immune system. Essential fatty acids like Omega 3 and Omega 6 reduces inflammation and helps in rejuvenating the skin and coat of the feline. A healthy ratio of calcium and phosphorus strengthens bones and teeth. Whole grain Cereals present in Whiskas Cat Food 3 Kg is loaded with nutrients for lowering the risk of diabetes and obesity in adult cats.
 Ingredients
Wholegrain Cereal (Corn, Wheat) | Poultry & Poultry By-products | Corn Gluten Meal | Vegetables Oil (Palm Stearin, Soy Oil) |Ocean Fish | Wheat Flour | Minerals | Iodised Salt | Vitamins | Taurine | Methionine | Food Colouring | Preservatives | Flavour
 Details
Brand:

 Whiskas

Manufacturer:

 Mars Petcare (Thailand) Co Ltd,

Importer:

 Mars International India Pvt Ltd

Number Of Items:

 1

Form:

 Pack

Country Of Origin:

 TH

Diet Type:

 Non Vegetarian

Net Quantity:

 3 Kg

Special Use:

 Healthy Growth, Nutrition, Urinary System, Growth, Digestive Health, Immune, Muscles, Effective To Attract Fussy Eaters, Activeness

Intended Use:

 Growth And Performance, Complete Nutrition